Life Alert makes a great holiday gift for the whole family? You mean that emergency response system with the little old lady yelling, "Help, I've fallen and I can't get up," makes a great gift for everyone in the family? How can that be?
Life Alert's well-known emergency pendant is as much of a classic as Dickins', A Christmas Carol, but still as cutting edge as any new technology on the market. As always, Life Alert's medical alert system sends help fast, 24/7, in the event of any home medical emergency such as a fall, stroke, or heart-attack; and can even be used for a home invasion. So if some guy comes sliding down your fireplace not wearing a white beard and a red, velvet suit – simply activate Life Alert and they will summon the authorities faster than unwanted gift returns.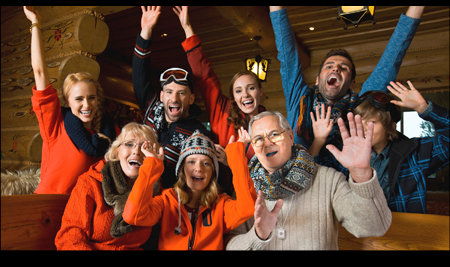 In addition to helping seniors live a safe, independent life, Life Alert provides protection for all homes and families as seen with their monitored Fire and CO Gas protection system. Standard fire alarms just makes noise to warn of smoke; whereas, Life Alert's monitored fire protection system not only alerts you upon detecting fire or smoke, it also sends a signal to a team of dispatchers standing-by who notify the local authorities. So, if your house catches on fire from the candles you accidently left burning as you made a mad rush out to the mall for last minute shopping, Life Alert will notify the fire department and send help fast. This kind of fast warning can be the difference between having a merry or blue Christmas.
Life Alert also offers Monitored Carbon Monoxide Protection, another great gift to give to a family you love. Carbon Monoxide (CO) is an odorless, colorless, gas that can build up to dangerous levels in your home through stoves, water heaters, furnaces, clothes dryers or fireplaces if they are not property vented, maintained, and operated. More dangerously, CO Gas does not discriminate against any age and can poison the whole family, including pets. Like their fire protection, Life Alert's CO Gas protection system is monitored and will warn of high levels of the poisonous gas, but will also send help any time of day or night if CO Gas is detected. Many times a hard working furnace gets overlooked during the winter season, so Life Alert will notify you and the authorities if CO Gas becomes present, which is a gift in-of-itself.
Have a young adult going off to college or an elderly relative who rather be out and about than home? Life Alert's got them covered too with their Protection on the Go system. Life Alert's Protection on the Go MOBILE app makes a great holiday gift for any age and any situation. The app has a large HELP button that is down loaded to their own cell phone and will connect the person to Life Alert's monitoring center. Best of all is they don't need to wait until an emergency happens to use this service. If the person is ever concerned for their safety in any situation, such as walking alone in the dark, s/he simply press the button to contact Life Alert and speak with a dispatcher. They will stay on the line until the person feels out of harm's way. If needed, Life Alert will send the authorities to their location.
Or there is the Life Alert Emergency Mobile HELP cell phone that has one large and easy to access "HELP" button that connects you to Life Alert's Emergency Dispatch Center for immediate help. The Mobile HELP Phone has nationwide cellular coverage via AT&T's 3G network and not need to be charged as the batteries last up to 10 years. The Mobile HELP Phone also includes GPS so that you can be located anywhere in the United States when a GPS signal is available.
Now you know with all the services Life Alert offers, there is something for everyone in the family. So this year, if you're going to give grandma her favorite scented candle, include Life Alert's monitored fire protection system; if you have a kid going off to college, get them the Life Alert mobile app; and for your parents who want to maintain their lifestyle, give them freedom and independence with Life Alert's medical alert system.
Life Alert makes a great holiday gift for the whole family and gives you peace of mind knowing your loved ones are safe and protected.
To learn more about all the great services offered by Life Alert for protection year round, call 1-800-380-0768 for a Free Brochure.