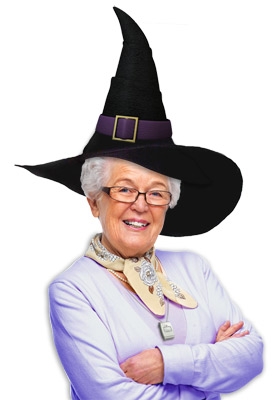 Granny shivered when the booming October thunder shook her home. The heavy rain rapped on the roof while the moisture tapped on her bones. She shook it off and continued to open the boxes she retrieved from her attic. Regardless of how tired she was, nothing was going to stop her from decorating for the season. After all, the neighborhood expected it since she had a large Victorian Style house located at the end of the street which was the last stop of the night for the trick-or-treaters.
Her aged home creaked, just like she did, and was the oldest structure on the block, a moniker Granny was proud of since she too felt she was one of the same. It was even rumored to be haunted. The creaks, drafts and upkeep didn't bother Granny as much as it did her adult children who insisted she sell the place and move into a nice retirement community.
"I will not move into a retirement community," declared Granny when her son brought over pamphlets from senior living complexes. "This is my home, where I raised my children, tend to my garden, and know everyone who lives around me." As far as Granny was concerned, the subject was closed.
Granny went back to decorating when thunder boomed again, she winched and told the sky to be quiet as she opened a box and pulled out framed photos. Snickers, Granny's calico cat, had called it a night from his compulsive curiosity that made him jump in and out of the boxes, but Granny wanted to get as much done as possible before retiring herself.
She had the perfect spot to hang the pictures and went to the utility closet to get her tool box. When she opened the closet door Granny froze as if seeing a ghost; thunder roared again shaking the roof as a dramatic emphasis to her abrupt halt.
A poltergeist it was not; but what Granny saw was a red and white box sitting on the closet shelf with large letters reading, "Help, I've Fallen and I Can't Get Up!" Granny suddenly remembered that it was the middle of the month and what her first priority should be.
She went to the corner of her living room where a two-way monitor sat on a table next to a plug and telephone jack. She recalled how easy it was to set up her Life Alert system. Her son had simply plugged the AC adapter into the outlet and placed the phone line into the wall jack.
Granny pressed the emergency pendant button she always wore around her neck, and a kind and confident voice came over the monitor, "This is Life Alert, do you have an emergency?"
"No," answered Granny. "I'm just doing my monthly testing of my emergency button." After a short exchange of pleasantries and a positive confirmed test, Granny went back to decorating. Halloween was only a few days away and she had to get everything set and ready for the kids to come over.
"Now about those pictures," she murmured to herself. Granny climbed up her step stool and went to work. The first photo to go up was of the old, creepy, cemetery, that when you titled your head ever so slightly you could see a superimposed image of a hand coming out of grave. The next couple of pictures were of the standard goblins, ghouls, vampires and monsters.
When finished, Granny stepped down off her stepstool only to barely miss squishing Snickers, who had just awaken and ran into the living room looking for Granny. Down Granny went. Luckily, she landed in a box of Egyptian cotton Mummy wrap, which cushioned her fall. She wasn't hurt but try as she might she couldn't seem to get herself up and out of the box.
"I've heard of a Jack-in-the-box, but a Granny-in-the-box?" She told Snickers as she tried one more time to lift herself out to no avail. Thankful she had her Life Alert, she pressed her button and once again heard a confronting voice say, "This is Life Alert, do you have an emergency?"
"Help!" Granny yelled. "I've fallen and I can't get up." Life Alert's emergency dispatcher assessed Granny's situation, and sent help fast which reassured her the reason why she had become a Life Alert family member. She liked that Life Alert wasn't just a medical alert system but had different protection packages for her and her home.
There was the monitored CO Gas alarm that would warn Granny of high levels of the poisonous gas, and send help any time of day or night if CO gas is detected. Knowing that her hard laboring furnace was the ghostly moans the neighbors heard escaping from her cellar, Granny opted to go for that.
But she also liked the fact Life Alert offered a monitor smoke alarm too, which she added to her protection package after that time she had gone to the store forgetting she had something cooking on the stove. While her standard smoke alarm went off, no one heard it but neighbors did see white smoke coming out of Granny's kitchen window giving them cause to wonder if Granny had appointed a new Pope. Although Granny wasn't home at the time, Snickers was, and it could have been a bad day for her Calico and her home if it wasn't for Granny's neighbors checking in on her. After that incident, Granny ordered the monitored smoke alarm and felt a lot safer. She thinks Snickers did too.
But more importantly, getting Life Alert protection was the happy agreement with all of her children and it allowed Granny to stay in her own home while giving everyone peace of mind.
Before Snickers had the chance to pounce on a ball of Mummy wrap, the fire department arrive and helped Granny up, but now she felt a bit tired from all the excitement and decided to put off the decorating until tomorrow.
As she fell asleep with her cat taking up most of her pillow, Granny rested peacefully and gratefully knowing that she and Snickers were safe and secure with Life Alert Protection in the house.
If Life Alert protection could enhance your quality of life, and later replace or delay going to a retirement facility, wouldn't you be interested in a FREE informational brochure? Call 1-800-920-3410.