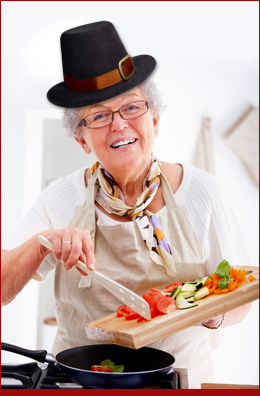 No sooner had Granny put the Halloween decorations away, she now had to prepare for the next holiday. Although cooking all day was a lot of work, Granny had to admit, she loved this time of year. The kids and grandkids all came to her house, and the family homestead was full of laughter and cheer. Even Snickers, Granny's calico cat, seems to get into the festivities.
While driving to the grocery store to get the Thanksgiving turkey, Granny made sure she had her special Life Alert HELP cell phone with her. She loved the fact that it was so compact and attractive, or as her nine year old grandson, Luke, would say, "OMG Granny, that phone is totally awesome!" Totally awesome indeed since it was so easy to use with a large, accessible HELP button that dialed directly into Life Alert's Emergency Monitoring Center, ensuring Granny (and her family) that help would be sent fast anytime Granny needed it. It even had GPS, and didn't need to be charged for ten years.
When Granny arrived at the store, the parking lot was full of customers getting their groceries for the big food filled holiday. Granny found a spot next on the side of the building where the parking lot was slightly sloped. She didn't mind since she was already at the top of the slope and didn't have to walk up it to get to the market.
Once inside she headed straight to the frozen section. She had everything already at home and just needed to get the main star of the holiday meal. She found the turkey that was perfect, a 20 pound bird. She struggled to lift it into her cart, but Granny viewed herself as a tough, old, bird and didn't bother to get anyone to help her. Besides, she was in a hurry to get back home; it was almost dinner time for Snickers.
Granny heaved as she tried to lift the bird. She did a double take on the poundage. It felt much heavier than twenty pounds…or, was it that Granny found it increasingly more difficult to do everyday chores?
She remembered when her son pleaded with her, "Mom, if you were in a retirement home, they would shuttle you to the grocery store and help you with your shopping."
"Yes, on their schedule, not mine." She butted back. So getting Life Alert was a happy compromise. Granny remained living independently in her own home and her family had peace of mind that help was a button push away if Granny needed it.
THUD! The frozen beast crashed down into the metal cart. "Well, that was easy enough," Granny said breathing heavily as she raced to the checkout line. One of the check-out boys offered to help put the bird in the car once he was finished helping another patron. "Thank you, but I have to get going. I'll be alright." She assured the young man and off she went.
When she reached the parking lot, she pulled the cart to the rear of the car so she could put her grocery bag in the truck. She fished for her keys in her purse, found them, and opened her trunk. She turned to put the holiday meat in when she noticed the cart was gone! It was not only gone, but going further away and fast. The cart started rolling down the slope of the parking lot.
"Stop!" Granny yelled chasing after it. The grocery bag handles that held her holiday beast waved to her like happy travelers waving good-bye as their vacation cruise sailed off. Luckily, the check-out boy who had offered to help her earlier witnessed the bird's great escape and ran after the cart. He caught it quickly but was too far away to catch Granny. Granny's sudden sprint had weakened her legs and although she had slowed from a run to a walk, she still ended up falling.
The check-out boy ran to her. "Are you alright?" He asked trying to help her up. "My hip hurts, I think I may have bruised it." She answered back while telling him that when an elderly person falls, they should not be moved until the paramedics arrive to check them for any broken bones. Granny reached into her purse and pulled out her Life Alert HELP phone, and pressed the big, red button.
Very soon, paramedics were on the scene checking Granny's vitals and seeing that she was alright. Thankfully, nothing was broken. Life Alert even called her son, who went over to Granny's house to feed Snickers and wait for Granny to arrive. When she pulled in the driveway, he helped her out of the car and gave her a big hug her before grabbing the turkey from the truck.
"I'm glad you're okay, Mom." Her son said.
Granny smiled, "Me too, and I'm grateful that I have Life Alert."
He put his arm around her as they walked into the house, "So am I."
If Life Alert protection could enhance your quality of life, and later replace or delay going to a retirement facility, wouldn't you be interested in a FREE informational brochure? Call 1-800-920-3410.